I would like to announce another publication of this year in the field of Byzantine and Orthodox Chant.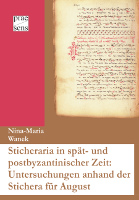 You can buy or review this book here:
http://www.praesens.at/praesens2013/?p=4120
The sticherarion is one of the most important chant books since its creation as a fully notated chant book during the 10th century (the genre of the chant sticheron is much older and can even be traced back to the earliest papyrus fragments of the 6th century) until today, when it still represents one of the main genres of Orthodox chant, defined according to the New Method by its own formulaic repertory within the Octoechos and its own tempo.
Because the study is focussed on the late period (since the reform of Ioannes Koukouzeles and his creation of an alternative kalophonic method during the 14th century), it is of particular interest for Orthodox chanters who would like to understand the connection between the "old sticherarion", a mysterious voluminous book called "mathematarion" ("exercise book" as the alternative name for the sticherarion kalophonikon), and the printed editions of the doxastaria today, which are differentiated between a "short" (syntomon), a "moderate" (argosyntomon), and a "long version" (argon). The author does treat the arrangements of the "old sticherarion" by the 17th-century composers Panagiotes the New Chrysaphes and Germanos of New Patras who became the most representative agents of the Byzantine sticherarion for Chourmouzios the Archivist's transcription according to the New Method (around 1814). 

Hopefully the book will answer a lot of open questions. The sticherarion represents a very huge collection of chant, so Nina-Maria Wanek's study has its focus on the sticheraria of August (menaion) concerning the repertory and on the collections of three libraries concerning the sources: the National Libraries of Austria (Vienna), Greece (Athens), and the Bayerische Staatsbibliothek (Munich, a reproduction of cgm 626, fol. 305r,  is already presented on the hard cover).